And there is a lot of respect for veteran (= highly experienced) dive guides in Japan, specialists of the local area, and for dive shops who have been around for long enough to become a local authority (such operation are called shinise 老舗 in Japanese, which is an important concept extending way beyond the diving world).
Similarly, dive staff will be quite proud to be employed by such well-established and recognised dive centres, which is a form of recognition, and also to work under / learn from famous guides.
Japanese dive guides are usually expected to offer a good tour of local highlights, actively spotting marine life for the divers (often less inclined to try to find stuff on their own) and, importantly, to not only lead the dive but also ID marine life in real time and engage in active, entertaining underwater communication by writing on a slate, and also often to lead comprehensive log-book sessions.
Japan offers great wide-angle and macro photography options, and many Japanese divers dive with cameras, ranging from to compacts or the ubiquitous Olympus TG series, to micro 4/3rds and DSLRs.

A very large part of Japanese diving-related publications is dedicated to underwater photography, there is a larger market of very enthusiastic amateur photographers diving with pro-grade equipment.
And this is quite unique.
It's not so much that there are no examples of such charismatic dive guides in non-Japanese contexts – dive-guide legends such as Larry Smith immediately come to mind, but also explorer-guides have pioneered diving in new areas such as Burt Jones and Maurine Shimlock or Edi Frommewiler and others, or researchers specialised  in certain marine life (such as sharks, whales or manta rays…), who offer cruises dedicated to certain encounters, for instance.
And yet there's something a little different about the Japanese concept, which is a strong sense of localism, and good-natured pride.
Guides are publicly recognised as the best ambassadors of the region they represent, and divers will actively seek these local specialists.
These basic signals can also be extended for specific underwater communication purposes, such as more complex dive profiles, training contexts or fish ID.
The main alternative to hand signals is underwater slate use, which is not uncommon worldwide.

Most dive professionals do carry some sort of slate, as writing is an easy and rather fool-proof way to convey more complex information efficiently underwater.
Diving instructors will often have agency-provided training slates, serving as memory backups and to keep track of progress, and make up their own slates for courses.

Guides and even fun-divers will usually have a small slate tucked inside a pocket somewhere, just in case something happens that calls for clear and rapid communication of complex and unplanned for ideas.
Indeed, magnetic slates are great for entry-level teaching situations as they allow you to communicate smoothly with a student during training, without needing to surface, especially useful to explain what they should focus when working on a skill.
In a training situation, being able to talk underwater is sometimes precious.

Japanese diving has developed a unique parallel culture of underwater slate use, where the dive-guide is expected to actively communicate, in writing, with the divers she or he is guiding

Many Japanese divers also carry a personal slate, but for the dive guide, it has now become something of set requirement, an expected service, reflecting a specific approach to guiding.
And the very nature and form this underwater written communication takes is also quite different from what non-Japanese dive guides would use a slate for.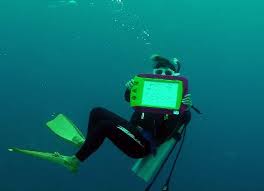 As a practical illustration of how much slate use has permeated Japanese diving culture,  PADI Japan's brochure for the PADI Discover Scuba Diving program introduces basic hand-signal practice… using an underwater slate!
Big slates do affect your way of diving and guiding, and can a bit of a handful in strong current…
As a side-note, at one dive centre we worked at on the Andaman Sea, non-Japanese staff gave the big Japanese slate the affectionate nickname of surf-boards.
Giant-stride entries generally mean holding the slate vertically over your head, and most guides would write their name in big bold letters before jumping, and hold it over their head once on the surface to signal their guests that where they should be heading to regroup….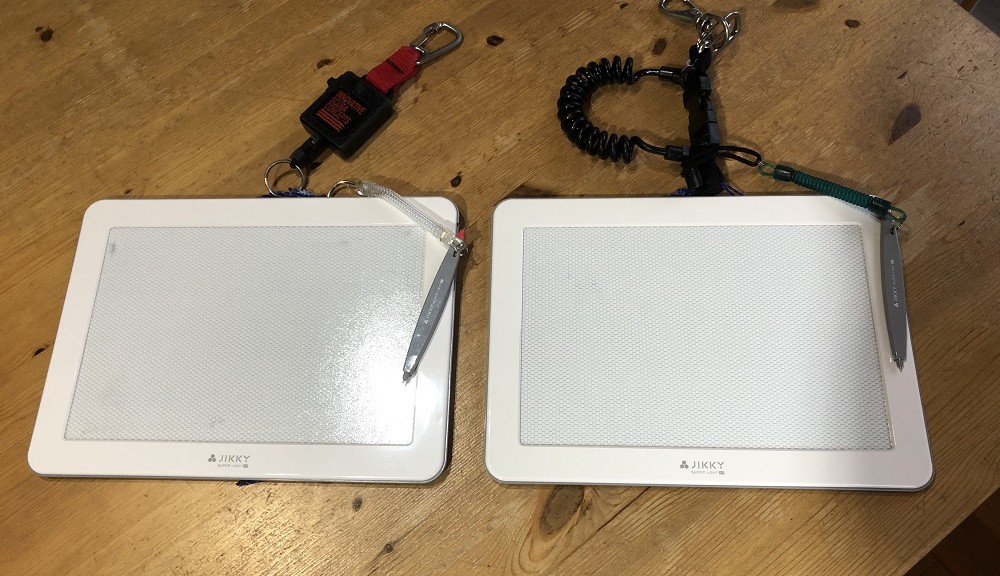 Until recently, one of the most commonly used model was a large magnetic slate called Sensei (by the toy-brand Toby), very sturdy and with an easily recognisable design.
Most of the Japanese guides around us used this model or a variation, simply removing the stars and heart design magnets and adding some sort of carabineer or clip to secure it to their BCD.
Recently however, smaller magnetic slate models, either specifically designed for underwater use such as the very widespred Innovative Scuba Concepts Quest Underwater Slate or diverted from land use (such as the slimmer, and more stylish Jikky slates) are also gaining in popularity.
More On Japanese Dive Culture