a dive under Japanese waters
It is possible to dive in Japan all year round, but conditions vary greatly depending on seasons and areas. As a rule, northern parts of the country are generally cool and temperate, whereas the south is increasingly subtropical.
Japan has three main marine ecosystems, subject to strong seasonal variations.
The southern region (notably the Nansei islands south of Kyūshū and the southern Nanpō islands) allows for – weather permitting – year-round subtropical diving, the warmest waters are found in the Ryū-Kyū islands/Okinawa region, where water temperatures rarely drop below 20°C in the winter, allowing for 5/7 mm diving in winter, and in the summer months, 3mm to no-wetsuit diving.
Other southern areas (such as the northern Nansei islands, also known as the Satsunan islands, administered by Kagoshima Prefecture) will be cooler in winter, before reaching similar temperatures in summer.
This means that there is a definite drysuit season covering the winter months, where water temperatures range between 10°C to 15°C and the air is 10°C or less, which eases into more comfortable wetsuit diving when the temperatures reach 20°C+, usually from spring onwards.
The rise of water temperatures depends both on local weather and the movements of the Kuroshio warm water current).
Japan's central regions, especially Honshū island offers a large variety of seasonal conditions, with generally temperate waters that warm up in the summer months, fluctuating from roughly from 10°C in winter to 27°C in summer.
And Japan's northern region, and the subarctic far-north offer much colder conditions all year round, and water temperature rarely reaching above 20°C+ in Hokkaidō, even in summer, and drop to freezing in winter, meaning it is cool water (primarily dry-suit) diving most months, and even ice diving in the winter.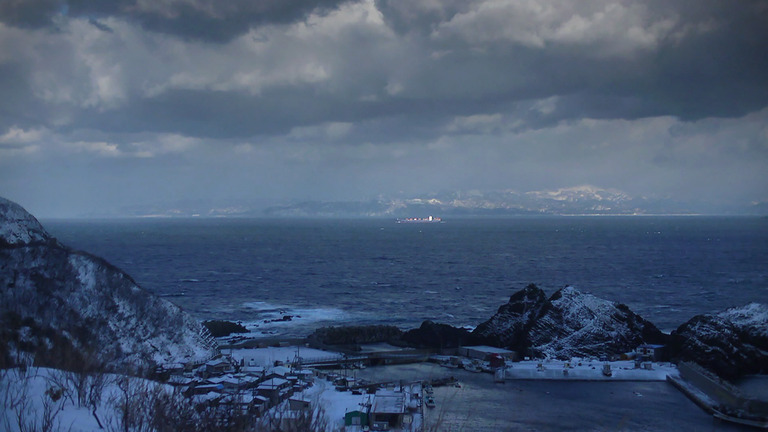 Tsugaru Strait in winter – Image source: nhk.or.jp
Temperatures do get colder everywhere in Japan in the winter months, and water temperatures will drop considerably, except in subtropical southern islands.
Diving conditions generally become more challenging, with winds and strong swells.
And Japan also has particular climactic events such as a rainy season (June-July) and typhoon season (peaking between August to October).
One could say that, for general diving activities, the best times to visit would be the spring months from March to May, and then again in autumn, from September to November, when you'll find generally warmer waters and also increase your chances of encountering good conditions and less rain.
 Japanese diving's high season starts roughly at the end of the country's rainy season, which varies from one part of the archipelago to another, but is around mid-July on average.
High season thus generally starts mid-July, and lasts until September, extending slightly later, to November or so in the southern regions.
 August to November are overall the most popular, and busiest months for diving across Japan, offering generally good conditions and comfortable water temperatures across the country.
May into the summer months is one of the best periods for diving central Honshū and south of Tōkyō areas (Izu Peninsula, etc…), which are also some of the country's busiest diving areas due to the region's massive population concentration.
 And yet it is possible to dive in the area all year around. Water temperatures vary from 10°C to 26°C , meaning there is a clear wetsuit season (May to October) and a drysuit season (November to April).
Spring, which runs roughly from March to May, is a great time of year to visit Japan since the weather is nice and warm, but has yet to reach the generally hot and humid temperatures found almost everywhere in the summer months, and it doesn't rain much (spring is also the period for viewing Japan's famous cherry blossoms).
Just try to avoid the Golden Week, between the last week of April and the first week of May (the core holiday being between April 29 to May 5), which is by far Japan's most popular holidays for travelling, since it features no traditional and/or family obligations.
This means that prices generally increase across the country and that everything, including accommodation and dive trips, will be fully booked, well in advance.
Also do try to avoid the O-bon week (generally August 13 to 16) and New Year's break (which has less impact on domestic diving since it is in winter) – more on Japanese holidays here.
As a rule, it is also better to try to avoid weekends if possible, which are often very busy, especially at dive sites easily accessed from the major population centres of the Pacific Belt, especially the Tōkyō-Nagoya-Ōsaka megalopolis…
Japan has 3 to 4 weeks of rainy season (tsuyu) which generally mark the transition from late spring to early summer.
This is not always easy, but it would be also be best to try tsuyu if possible.
Regionally, the rainy season usually spans from mid-May to mid-June in the Nansei / Ryū-Kyū Islands, and from early June to early July in Honshū, whereas the island of Hokkaidō is mostly unaffected.
Nationally, the rainiest month is June.
While it is still perfectly possible to dive (you will get wet anyway!), frequent downpours do complicate things and can affect visibility in some areas, and equipment doesn't dry easily.
Furthermore, moving around in a rainy, extremely high humidity environement isn't the most pleasant of experiences…
On the Pacific coast and especially on the Nansei archipelago (Okinawa region), diving's high-season also coincides with the typhoon season.
Typhoons are East Asia's powerful cyclonic storms (the word comes from Chinese's tai fung or táifēng, rendered as 台風 taifū in Japanese).
Originating in the North-western Pacific Basin, they usually heading north-westwards from the Philippines, following the road nicknamed "the typhoon highway", and most commonly make landfall in the Nansei Islands (and particularly the islands of the Okinawa Prefecture), the Nanpō Islands and, somewhat less-frequently, along Honshū's Pacific coast or in Western Japan.
The first cyclonic storms forming in the Pacific Ocean, can start affecting the southern islands of the Nansei archipelago as early as May, but their frequency radically increases between the summer to autumn months, generally peaking in the August-September (where typhoons can hit every two weeks or so on some years…), and diminishing in October.
Overall, typhoon season lasts from August to October, but the typhoon risk is something you have to contend with in Japan, from anywhere between July to November in certain areas.
These often violent tropical storms rarely last more than 48 hours, but their arrival affects underwater visibility for a few days. Above all, they disrupt transport (expect cancelled / postponed flights and boats) and all outdoor activities, including shore or boat-based scuba diving, of course…
In the Okinawa islands, typhoons are just a part of everyday life. Their arrival is detected well in advance and everything is organized for your comfort and safety (a typhoon arriving generally means a day or night to be spent inside your hotel room from when the typhoon is near until it has passed).
You have to accept the risks, and account for this "typhoon factor" when planning a trip, diving or otherwise, in these parts of the world.
The Japanese low season for diving begins when the summer heat starts to recede, generally from the end of September onwards, a period which offers very good conditions across the country, that degrade from mid-autumn to the begining of winter.
Low season ranges from December to March or April, with often choppy conditions and lower water temperatures all around.
The winter low season does offer great seasonal highlights, like the migrations of whales and other cetaceans along Japanese coastlines.

Many whale watching tours organised across the country (a friendly reminder that not all Japanese people support whale hunting…), with humpback whales generally migrating between November and March.
January, February and March are also the best months to experience ice diving in Hokkaidō, Japan's most northern-most island.
And the best time to see schooling hammerhead sharks range from November to May in the Okinawa region (Yonagumi).
The southern islands of the Ryū-Kyū (Okinawa), offer warm weather, and comfortable diving all year around.
While the main high season is roughly the same as the rest of Japan, July to November (the summer months being the best months to encounter manta rays), a lot of divers also chose to visit in the winter months, when temperatures are still in the 20°Cs, offering a pleasant change from the freezing temperatures found elsewhere in the archipelago.
Water temperatures found in the southern Nansei islands (see a map here) administered by the Okinawa Prefecture are around 2)°C to 23°C in winter and rise up 28°C or more in summer.
The Nansei islands administered by Kagoshima Prefecture get colder, but warm up from around March.
On the main islands' Pacific coast, the north-flowing Kuroshio current generally starts heating the waters from the month of May onwards, and diving activities start picking up in early spring.