Elements of Japanese Diving History
The Japanese Imperial Navy also ordered and used the Rouquayrol and Denayrouze underwater breathing apparatus, which was first commercialised in 1865, as did other navies worldwide.
As lightweight device, with its highly recogniseable snout half-mask, it was one of diving's first commercial success.
It was also, highly innovative, being a demand membrane regulator system, that could be used as a self-contained unit.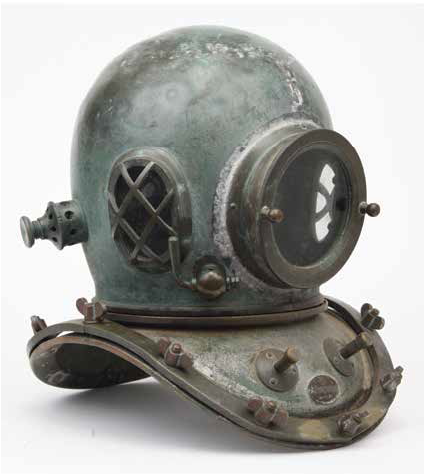 ← Japanese-made Kimura diving helmets ↑
Most Japanese bonnets models were based on Siebe design, and handmade, well into the mid-20th century…
Cultured pearls and pearl farming techniques were developed in Kansai in the late 19th century, along with the establishment of large aquaculture farms in western Japan, such as Toba's Mikomoto Pearl Island.
Japan helped develop the cultured pearl industry, and exported its know-how, and divers.
By the 1920, the majority of divers working in pearling were Japanese.
On the right, a Japanese hard-hat pearl diver, who as working on Thursday Island, in the Torres Strait (Queensland, Australia).

Pearl cultivation requires introducing an irritant into the oyster, then placing the oyster in a safe place and monitoring it, before finally harvesting.
While hard-had divers were commonly used, this new technical process dramatically boosted the demand for ama freedivers, as they turned out to be the most useful for the job, especially for large scale operations.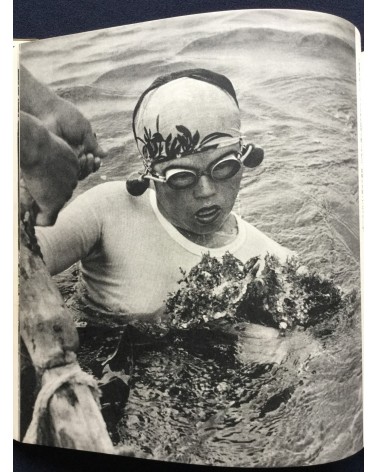 mīkagan goggles & pressure equalising goggles.
A standard poppet valve was connected to the outside structure of the mask, aligned with the diver's exposed mouth.

Air flowed from the air source used, either the surface pump or the back-mounted cylinder(s), into the valve's inlet.
The valve's outlet was connected to an external tube, itself connected to an inlet on the side of the face-mask.
On the rear of the demand valve, 2 levers are held between the teeth of the diver, one is fixed and the other one mobile.
To open the valve and get air, the diver needed to clench his teeth, which opened the valve and let air flow to the mask's air inlet.
The diver would then inhale the air through the nose.
To exhale, the diver unclenched his teeth, which shut the valve, and then exhaled through the mouth.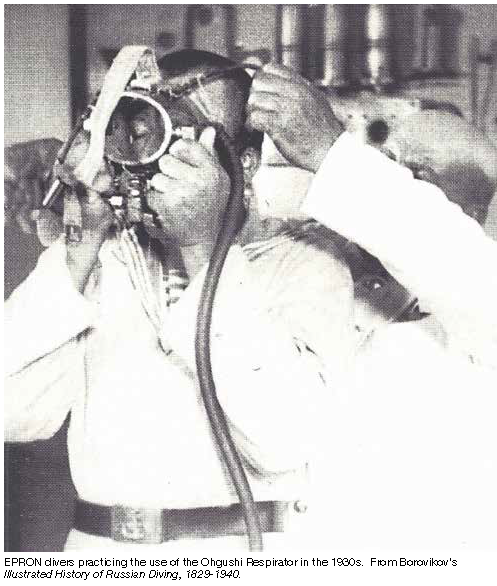 Soviet / EPRON use of Ohgushi type devices.
Pressure in the R2 compartment is equal to ambient + lung pressure.
The membrane is flat and the valve is closed, blocking the flow of compressed air from the R1 tank
Maurice Fernez diving apparatus, 1912
1930s French magazine special on "underwater tourism", family with Le Prieur devices
Louis Marie de Corlieu 1914 fin prototypes, used by Le Prieur